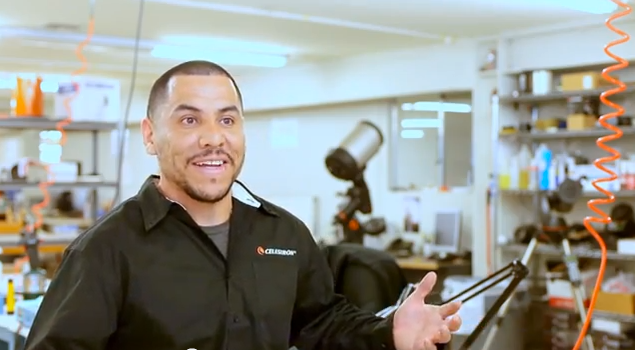 Whenever Team Celestron attends an astronomy show, the best part is meeting our customers and hearing their stories. You bring Celestron telescopes just about everywhere on Earth – from huge gatherings like the Texas Star Party to family observing sessions in your backyard. President Obama even looked through a CPC on the White House lawn!

You'll find Celestron telescopes on the set of The Big Bang Theory and aboard the International Space Station.

So, we want to know: Where do you Celestron?

That's what our new campaign is all about. We kicked things off in April by asking our own employees where they use our products. Watch a video of their answers: We invite you to join our global community of people who are passionate about astronomy, science, and the outdoors. Throughout 2013, we'll be adding to the campaign with stories from renowned astroimagers, published astronomy authors, and a "star guide" who gives people their first glimpse through a telescope. We'll even feature some unexpected people who use Celestron products, like a forensic scientist who uses our digital microscopes to analyze blood splatters.

Be a part of the conversation by submitting your story to WhereDoYouCelestron.com. You'll be added to our interactive map of adventure-seekers around the world. Throughout the year, we'll be selecting stories to receive Celestron prizes, subscriptions to Astronomy magazine, and much more.

Once 500 stories have been submitted, we're giving away a SkyProdigy 6 telescope. We're almost there, so make your mark on the map now! Visit WhereDoYouCelestron.com.