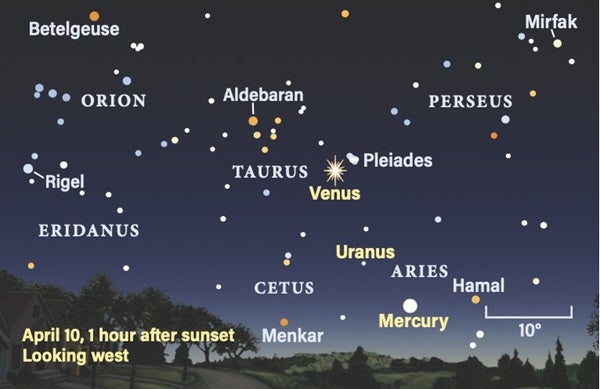 Hi folks, tune in every week of 2023 for the best in astronomy from Astronomy Editor Dave Eicher, brought to you by Celestron.
This week, we'll target the tiny planet Mercury, which is at its finest in the first two weeks of April.
Mercury reaches its best evening appearance for the year in April, and it will remain visible throughout the month. The innermost planet passes some 8° due south of Hamal, the brightest star in Aries, on April 6th, then climbs to its greatest eastern elongation 19° from the Sun on April 11. The planet dims to magnitude –0.1 during this period as its phase declines from 76 percent to 39 percent lit.
Later this month, on April 21, a crescent Moon joins Mercury low in the western sky. Look first or the Moon soon after sunset. However, at this point, Mercury will have faded to magnitude 1.9 and will be difficult to spot at lower altitude, nearly 9° due east of the Moon. The Moon is 12° high and Mercury is just 5° above the horizon. (Note that magnitude 5.9 Uranus lies within 4° of Mercury, but it will be most challenging to spot unless you're observing from high elevation with perfectly clear air.)
For more information on how to spot Mercury, as well as other planets visible this month, check out Sky this Month here: https://astronomy.com/magazine/sky-this-month/2023/03/sky-this-month-april-2023
Follow Astronomy magazine, the world's best-selling astronomy magazine:
???? Website: https://astronomy.com
???? Subscribe: http://subscribe.astronomy.com
???? Facebook: https://www.facebook.com/AstronomyMagazine
???? Instagram: https://instagram.com/astronomy.magazine
???? Twitter: https://twitter.com/AstronomyMag
Shop Celestron telescopes:
???? Website: https://celestron.com
Follow Dave Eicher:
???? Facebook: https://www.facebook.com/davidjohneicher/
???? Instagram: https://instagram.com/eicher.david
???? Twitter: https://twitter.com/deicherstar