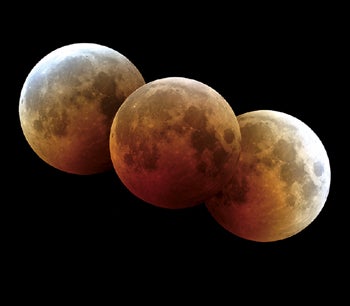 Astronomy's mission:
Astronomy promotes the science and hobby of astronomy through high-quality publications that engage, inform, entertain, and inspire. Inhabitants of Europe and Africa have the best view. They're perfectly positioned to watch the entire eclipse.

Within the United States, East Coast observers will enjoy the longest view, but even there, the Moon will rise already eclipsed. On the central East Coast, the Moon rises about 5:45 p.m. EST. In Boston, it rises 15 minutes earlier, and in Miami, at 6:20 p.m., shortly before totality ends. Observers in the Central time zone will see the late stages of totality, which ends at 5:58 p.m. CST.

The end of totality occurs just as the Moon rises for observers along a line from Minnesota, Iowa, Missouri, Arkansas, Mississippi, and south to the Louisiana coast near New Orleans. From the Mississippi River to the Rockies, observers will see a partial eclipse, when the Moon's bright left rim exits the dark umbra during the next hour. Farther west, skywatchers get a deep yellow moonrise after the partial phase has ended. They'll get their turn August 28, when the next total lunar eclipse occurs.

What color will the Moon turn at mideclipse? During past total eclipses, the Moon has turned brown, orange, crimson, and brick red. Lunar eclipses exhibit a range of shades because sunlight passing through Earth's atmosphere becomes scattered and reddened. It's this dim glow that fills Earth's shadow and lights the eclipsed Moon.

More resources from Astronomy magazine:
Astronomy
news
This week's
sky events
Astronomy
basics
Glossary of
astronomical terms
Return to
Astronomy
"For the media" page
WAUKESHA, WI – The first total lunar eclipse in more than 2 years will thrill North American observers March 3. This eclipse will provide a perfect astronomy-club or family event because it occurs on a Saturday.

Experts at your disposal
Astronomy magazine editors are available to discuss this event. To request an interview, please contact Matt Quandt at 262.798.6484 or mquandt@kalmbach.com.

A lunar eclipse occurs when the Moon, in orbit around Earth, passes into Earth's shadow. The shadow has two parts: the inner, darker umbra, and the outer, lighter penumbra. If the whole Moon enters the umbra, the eclipse is total. If the umbra hides only part of the Moon, the eclipse is partial.