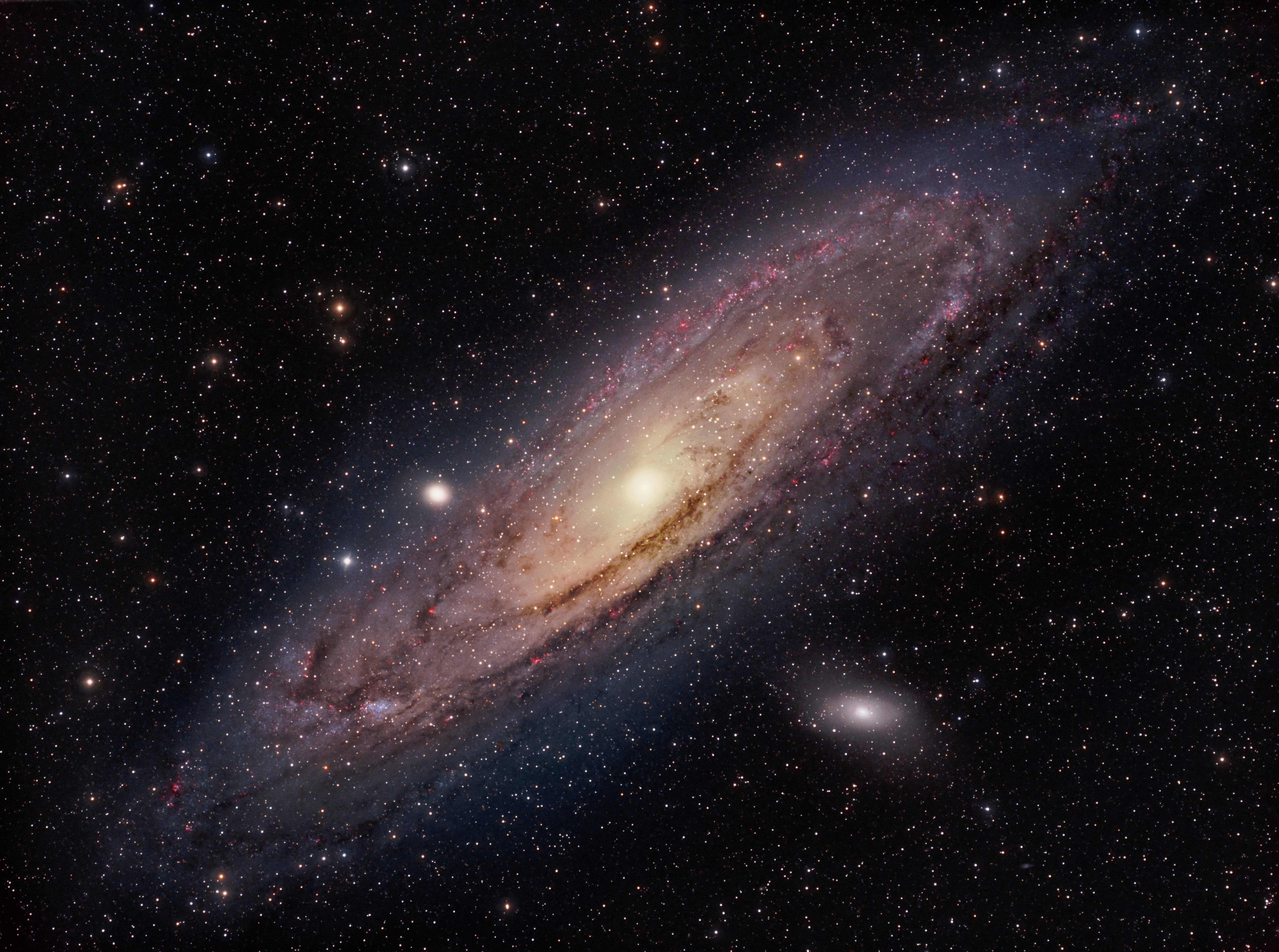 The Andromeda Galaxy (M31) makes for a great late summer target, as a naked-eye object or with binoculars or a telescope. It's the closest major galaxy to us at 2.5 million light-years. It's also the most distant thing that most people can see with their naked eyes alone! (In the right conditions, some people can see M33, the Triangulum Galaxy).
Viewed with a moderate-sized telescope, M31 will reveal a bright condensed hub, well-defined dark lanes, and numerous satellite galaxies. M32 and M110 are in the same field, but don't forget about NGC 147 and NGC 185 in Cassiopeia, the next constellation over. The fact that they are 7° away — roughly 14 times the diameter of the Full Moon — and still gravitationally bound to M31 is a dramatic indication of just how close Andromeda is, and how large it looms in our sky.
In fact, the Milky Way and Andromeda are moving toward each other — and in about 4 billion years, the two galaxies will meet in a collision that will warp their spiral structures and light them up with bursts of star formation. But by that time, if there is any life around to see this spectacular smash-up, it won't be on Earth. We have only about a billion years before the Sun's evolution renders Earth uninhabitable. So get out there and see Andromeda while you can!
---
---
Follow Astronomy magazine, the world's best-selling astronomy magazine:
🌎 Website: https://astronomy.com
📖 Subscribe: http://subscribe.astronomy.com
📘 Facebook: https://www.facebook.com/AstronomyMagazine
📸 Instagram: https://instagram.com/astronomy.magazine
🐦 Twitter: https://twitter.com/AstronomyMag
Shop Celestron telescopes:
🔭 Website: https://celestron.com
Follow Dave Eicher:
📘 Facebook: https://www.facebook.com/davidjohneicher
📸 Instagram: https://instagram.com/eicher.david
🐦 Twitter: https://twitter.com/deicherstar