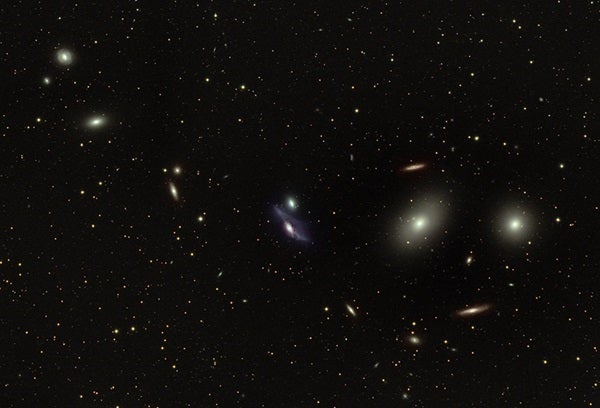 Hi folks, tune in every week of 2023 for the best in astronomy from Astronomy Editor Dave Eicher, brought to you by Celestron.
This week, we'll discuss the Virgo Cluster of galaxies, which has the greatest assortment of galaxies you could imagine. Way back in 1936, Edwin Hubble came up with the name of our little group of nearby galaxies: the Local Group. This collection of dozens of galaxies — both large and small — is about 10 million light-years across.
But about 50 million light-years from the Milky is the center of the larger Virgo Cluster, which contains about 1,300 galaxies of all types, from spirals to barred spirals to ellipticals to lenticulars.
The Virgo Cluster also hosts a great central core called Markarian's Chain, which includes bright galaxies like M84 and M86. Near this packed core also lies the super elliptical galaxy M87, which is home to an enormous black hole that was imaged for the first time just a few years back by the Event Horizon Telescope.
The Virgo Cluster is home to all the kinds of galaxies you could ever hope to see. So this spring, grab your binoculars or telescope, head to a dark-sky site away from the city, and take in all the galaxies you could ever ask for.
For more information on observing the plethora of galactic sights the Virgo Cluster has to offer, see here: https://astronomy.com/magazine/glenn-chaple/2013/02/explore-the-virgo-cluster
Follow Astronomy magazine, the world's best-selling astronomy magazine:
???? Website: https://astronomy.com
???? Subscribe: http://subscribe.astronomy.com
???? Facebook: https://www.facebook.com/AstronomyMagazine
???? Instagram: https://instagram.com/astronomy.magazine
???? Twitter: https://twitter.com/AstronomyMag
Shop Celestron telescopes:
???? Website: https://celestron.com
Follow Dave Eicher:
???? Facebook: https://www.facebook.com/davidjohneicher/
???? Instagram: https://instagram.com/eicher.david
???? Twitter: https://twitter.com/deicherstar