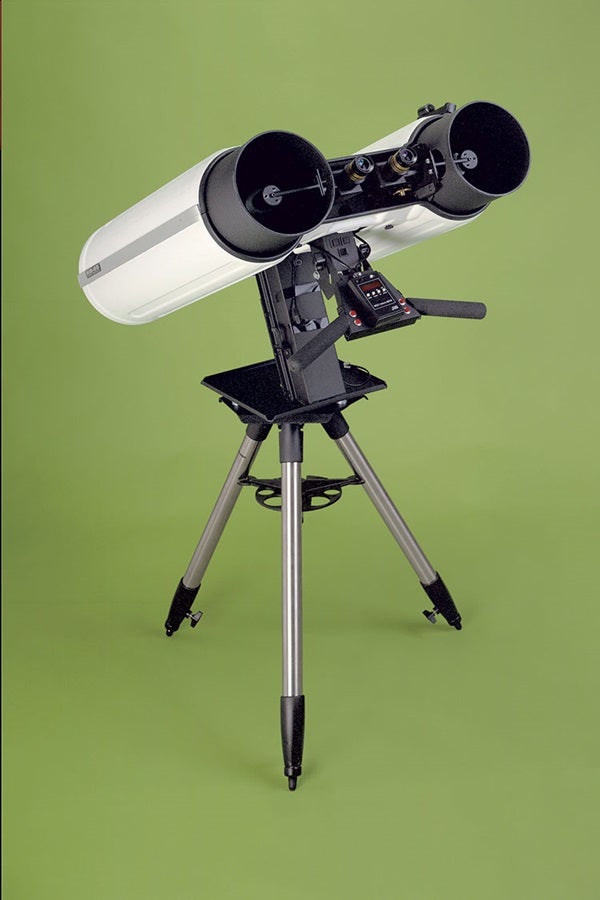 Astronomy: William Zuback
This review, "JMI's RB-66 binoscope," appeared in the February 2004 issue of Astronomy magazine.
Mention binoculars, and most of us envision a pair of small prismatic refracting telescopes joined together by a central spine. Their small size and light weight make binoculars perfect for an impromptu viewing session — whether a distant scene, a bird in flight, or a look at the night sky.
Of course, not all binoculars are small and light. Some are large and heavy. Despite their differences in size, however, all binoculars have the same basic design. Until now.
A new concept
Late in 2002, Jim's Mobile, Inc., (JMI) introduced an innovative product called the RB-66 binoscope. The "RB" stands for "Reverse Binoculars," something the amateur market hadn't seen. The RB-66 is, in effect, two 6-inch f/5 Newtonian reflectors with a protective "clamshell" of molded plastic surrounding the entire assembly.
To continue reading this review you need to be an Astronomy magazine subscriber.
Subscribers have full access to our equipment review archive and many other great online benefits.
Already a subscriber? Simply log in or create an account below.