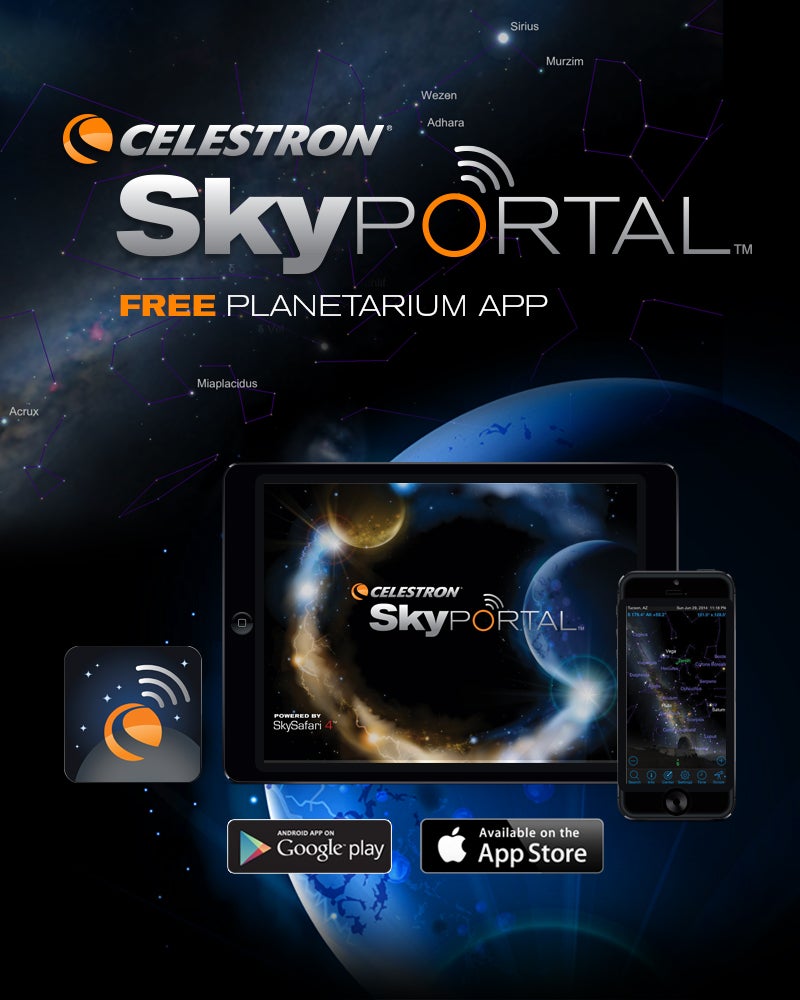 Celestron's engineers are known to seek out the best and brightest minds in the amateur astronomy industry. They've collaborated with optical engineers Dave Rowe and Mark Ackermann on our latest astrograph, and teamed up with the experts at The Imaging Source for our line of Skyris solar system imagers. So when it came time to develop a mobile app to control our NexStar Evolution telescope, Celestron partnered with the experts from SkySafari.

Wireless Telescope Control from Your Mobile Device
The result of that collaboration is our new free planetarium app: Celestron SkyPortal. After connecting your iOS or Android device to NexStar Evolution's internal WiFi network, SkyPortal becomes a telescope hand controller and your personal tour guide of the night sky. Select any of the thousands of stars, planets, galaxies, nebulae, and more, and tap "GoTo." Your NexStar Evolution will center the object in the eyepiece and track it with impressive accuracy.

A Full-Featured Planetarium
Celestron's team wanted the SkyPortal app to be a useful tool for everyone, not just NexStar Evolution owners. With or without NexStar Evolution, SkyPortal is the perfect tool to learn more about the night sky.

This robust app features information on more than 120,000 celestial objects.
For the most popular objects, you can even view astroimages or listen to audio descriptions to enhance your stargazing experience.

Plan Your Next Observing Session
SkyPortal's time control allows you to travel up to 100 years forward or backward in time and view the sky as it would appear on any night from any location on Earth. A huge boon for amateur astronomers, SkyPortal makes it easier than ever to determine the perfect time and place to set up your telescope for observing Jupiter's Great Red Spot or imaging a lunar transit across Saturn.

You can even track satellites like the International Space Station to find out when they'll be flying overhead! Or fast forward for a sneak preview of one of the many "Blood Moons" we'll be experiencing in the next couple of years.

Best of all, SkyPortal is completely free! Head over to the App Store or Google Play to download it – then get out there and observe.