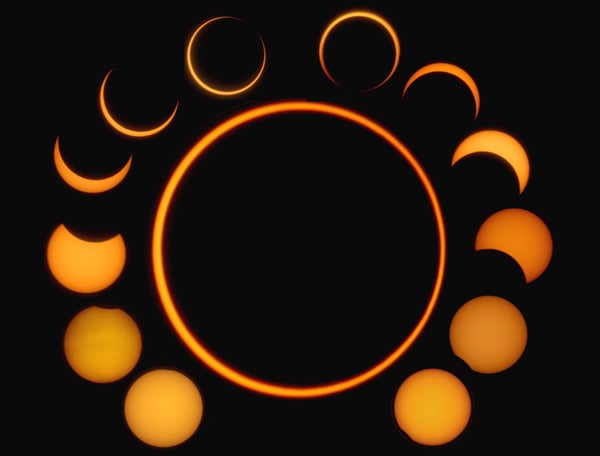 Hi folks, tune in every week of 2023 for the best in astronomy from Astronomy Editor Dave Eicher, brought to you by Celestron.
This week, we'll discuss the unique hybrid solar eclipse that will take place April 20, 2023.
Just 5 percent of all solar eclipses are "hybrid" eclipses — total over part of the path and annular over the rest. This rarest type of solar eclipse returns on April 20, 2023, after a gap of nearly 10 years.
The eclipse begins and ends as an annular eclipse, but for most of its path, it is total. This occurs because the curvature of Earth causes the Moon's shadow to fall short of reaching the surface for the east and west extremities of the track, where our planet's surface curves away. But the eclipse is total along the central part of the track. As mentioned, hybrid eclipses are rare, with just five to 24 occurring per century.
The section of the April 20 eclipse track near local noon lies close enough to the Moon for the Moon to cover the Sun and create a brief total eclipse. But the ends of the track, around sunrise and sunset, lie far enough from the Moon that our satellite can't cover the whole Sun. Observers there will see an annular eclipse, a thin ring of Sun surrounding the Moon.
April's solar eclipse begins as an annular eclipse at sunrise over the waters of the south Indian Ocean and makes landfall on a tiny promontory of the Cape Range National Park, located 800 miles (1,300 kilometers) north of Perth, Australia. Totality lasts some 62 seconds at this remote location.
The moment of greatest eclipse, where totality lasts 1 minute 16 seconds, lies just off the coast of Timor. The track reaches tropical West Papua in the early afternoon, where mountains rise to nearly 10,000 feet (3,000 meters) and generate lots of weather. The eclipse track briefly visits the island of Biak (65 seconds of totality), which has some developing tourist centers and is the location of a major battle of World War II. The track then races across the Pacific Ocean, turning into an annular eclipse again near sunset, just south of the Marshall Islands.
The next solar eclipse is an annular eclipse on Oct. 14 across the western U.S. and northern South America. It will serve as a preview for the April 8, 2024, total solar eclipse that will cross parts of Mexico, the U.S., and Canada.
To learn more about the Oct. 14, 2023, annular eclipse, as well as the highly anticipated total solar eclipse set to take place April 8, 2024, see here: https://astronomy.com/magazine/news/2023/03/where-are-the-best-places-to-see-the-2023-and-2024-solar-eclipses
To learn more about the history of eclipses, see here: https://astronomy.com/magazine/news/2023/04/a-history-of-solar-eclipses
For more on what to seek out in the sky this month, including the hybrid eclipse that will take place April 20, 2023, see here: https://astronomy.com/magazine/sky-this-month/2023/03/sky-this-month-april-2023
Follow Astronomy magazine, the world's best-selling astronomy magazine:
Website: https://astronomy.com
Subscribe: http://subscribe.astronomy.com
Facebook: https://www.facebook.com/AstronomyMagazine
Instagram: https://instagram.com/astronomy.magazine
Twitter: https://twitter.com/AstronomyMag
Shop Celestron telescopes:
Website: https://celestron.com
Follow Dave Eicher:
Facebook: https://www.facebook.com/davidjohneicher/
Instagram: https://instagram.com/eicher.david
Twitter: https://twitter.com/deicherstar