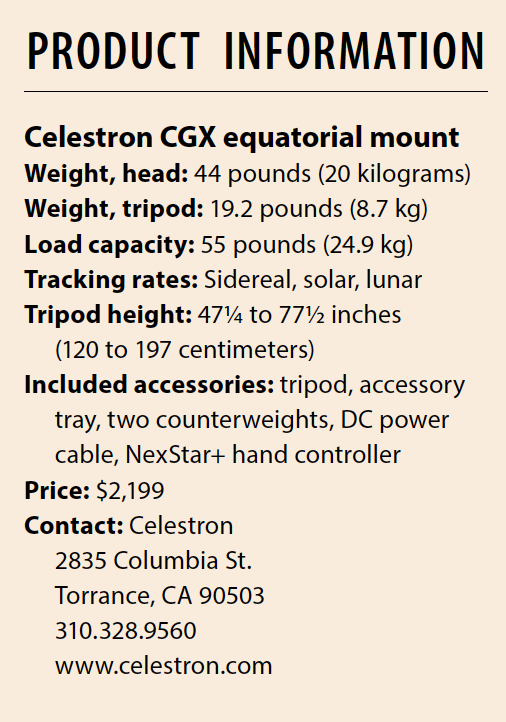 A critically important, but often overlooked, component of any observing setup is the mount. At a minimum, a mount needs to do two things: support the payload properly and allow for smooth tracking at high powers.

Although these requirements seem simple, a good mount can be a difficult purchase. Too often, amateurs deliberately choose mounts too small for their equipment, mainly due to expense. While visual observers can get away with this, astroimagers cannot. If you're taking photos, you're far better off stepping up to the next level of support, rather than trying to make do with something that is barely sufficient.

Enter Celestron's CGX equatorial mount. This welcome piece of equipment is the company's new entry in mid/heavy class German equatorial mounts (GEM).

The specs
At a weight of 63.2 pounds (28.7 kilograms) – 44 pounds (20 kg) for the head alone – and sporting a 55-pound (25 kg) capacity, the CGX mount is the new Celestron workhorse for scopes with apertures of 6 to 11 inches.

The CGX reflects an overall redesign to accommodate new control systems for both observers and imagers. It features internal cabling and two AUX ports, which support both SkyPortal WiFi and StarSense AutoAlign technology. For those observing remotely, Celestron has included sensors that return the mount to its index position in case of a power failure. Also, the sensors will shut off slewing or tracking before the system reaches its hard stop to prevent damage.

Imagers will be pleased with the new software to control operation and imaging. Particularly attractive is the ability to compensate for individual variations in the mechanics of the mount through multipoint mount modeling. Additionally, you'll find an autoguider port and a USB 2.0 port (for software updates). Celestron also touts the fact that the mount supports Programmable Periodic Error Correction. The drive system is now belt driven with spring-loaded worm gears to ensure a solid connection.

And, of course, the Celestron NexStar+ control drives the entire system. If you've used the NexStar system within the past few years, you'll feel right at home. The 40,000-object database contains the Messier, NGC, Caldwell, and other astronomical object catalogs. The arrival
The CGX comes in two boxes labeled "team lift." If you're getting this delivered, you may want to enlist some help moving it to where you plan to unpack it. While the mount itself is not difficult for a healthy individual to handle, it's a little awkward when boxed.

As you unpack, you'll find a tripod, accessory tray, hand controller, GEM head, two 11-pound (5 kg) counterweights, and a DC power adapter. The combined 22 pounds (10 kg) of counterweights should be sufficient to balance most equipment while keeping the entire setup under the 55-pound (25 kg) rating. Celestron also offers an AC power adapter and 17-pound (8 kg) counterweights as options. In the box, you'll find a code to download a special Celestron edition of the Starry Night 7 software for Windows or Mac. The dovetail that ships with the CGX is a two-in-one unit that supports both CGE (otherwise known as a Losmandy D plate) and CG-5 (Vixen) dovetails. Because the CG-5 saddle is recessed under the CGE portion, you may find certain CG-5 dovetail bars do not fit properly, although I had no issues. The ability to support both dovetails is a nice touch and something that I'd like to see become standard.

A polar scope is not included, but Celestron notes that one will be available as an option soon. The mount does support Celestron's All-Star Polar Alignment technology, which allows you to use the location of any bright star to fine-tune the polar alignment. If you use this, I recommend running the routine a couple of times for the best accuracy.

Under the stars
Field setup requires the included 8-millimeter Allen wrench to tighten the head attachment bolt. Celestron engineers have provided a place on the mount to store the wrench, but if you frequently travel to dark sites and break down the mount on a regular basis, I'd recommend that you store an extra Allen (or two) in your observing kit.

I tested the CGX with a variety of payloads, from a lightweight refractor to a Celestron C11 SCT (about 30 pounds [14 kg]). The mount bore the payloads well for visual use, and settle time was more than acceptable. While observing through the C11, I could tell that Celestron has definitely improved the damping time in this class of mount. The pointing accuracy of the NexStar+ system was top-notch. For more difficult targets, I found the high-precision pointing mode (Precise GoTo) very helpful. For those unfamiliar with it, you perform an alignment on a bright star near your target, and then the mount determines how far off you are from the ideal model and compensates when slewing to your next target. Astrophotographers who routinely image objects too faint to be seen through the optics will appreciate this.

A positive verdict
In all, I was impressed with Celestron's CGX equatorial mount. At its price point, it offers a good array of standard features and expandability. I'd recommend anyone who carries a cellphone, tablet, or laptop consider purchasing the SkyPortal WiFi module. At $99.95, this is a relatively inexpensive add-on. Amateurs who want to bypass the manual alignment procedure will be interested in the StarSense AutoAlign ($349.95).

Celestron has developed a solid, usable, and expandable mount at a decent price. The CGX will serve an amateur well for years of either visual or photographic use no matter which optical tube(s) you couple it with. I highly recommend it.