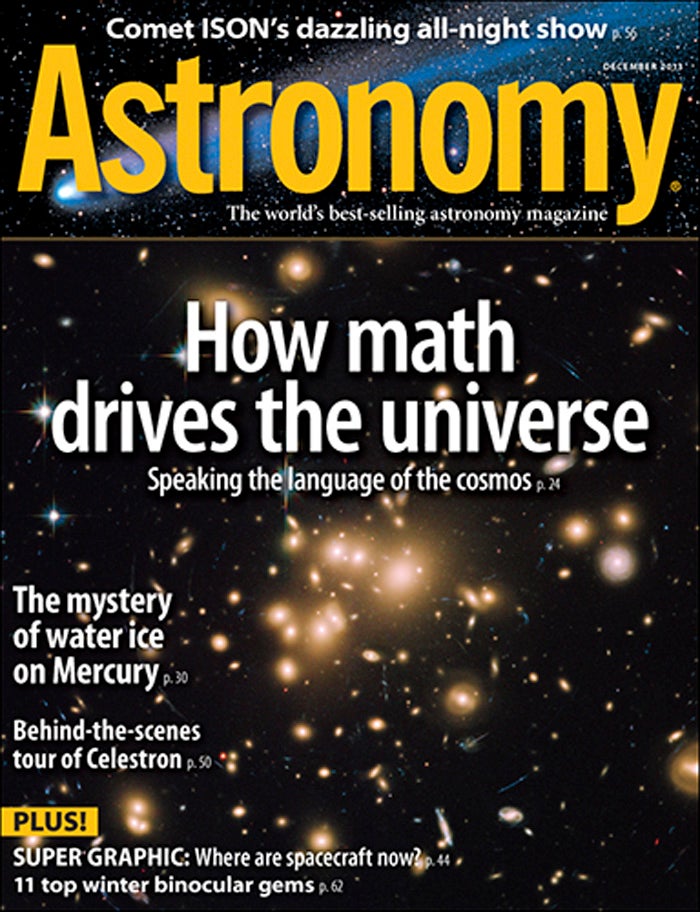 December 2013
The world's best-selling astronomy magazine offers you the most exciting, visually stunning, and timely coverage of the heavens above. Each monthly issue includes expert science reporting, vivid color photography, complete sky coverage, spot-on observing tips, informative telescope reviews, and much more! All this in an easy-to-understand, user-friendly style that's perfect for astronomers at any level.
Features
Speaking the language of the cosmos
Let's take the scare factor out of equations and ask scientists a fundamental question: How much of astronomy is math?
Astronomers use math every day, and these 10 equations are some of their favorite tools.
Torrid Mercury's icy poles
The MESSENGER spacecraft reveals water ice lurking in deeply shadowed craters.
Planetary scientists have discovered water ice at Mercury's poles that may have survived for billions of years, but other parts of this world seem surprisingly young.
Spacecraft: Where are they now?
What happens after planetary missions end?
Behind the scenes at Celestron
For more than 50 years, this innovative company has helped amateur astronomers observe the sky.
Comet ISON's dazzling all-night show
This cosmic interloper should remain a grand sight throughout these long December nights.
Check out Astronomy.com's complete coverage of this visitor from the outer solar system.
11 top winter binocular gems
One supernova remnant, two double stars, and eight clusters beckon cold-weather skygazers.
All you need besides a clear, dark sky to see some fantastic seasonal sky treats are your binoculars.
Celestron has made a pair of low-cost telescopes for beginners watching the great sky show.
Departments
StarDome and Path of the Planets
In Every Issue
From the Editor
Web Talk
Advertiser Index
Final Frontier
Letters
New Products
Reader Gallery