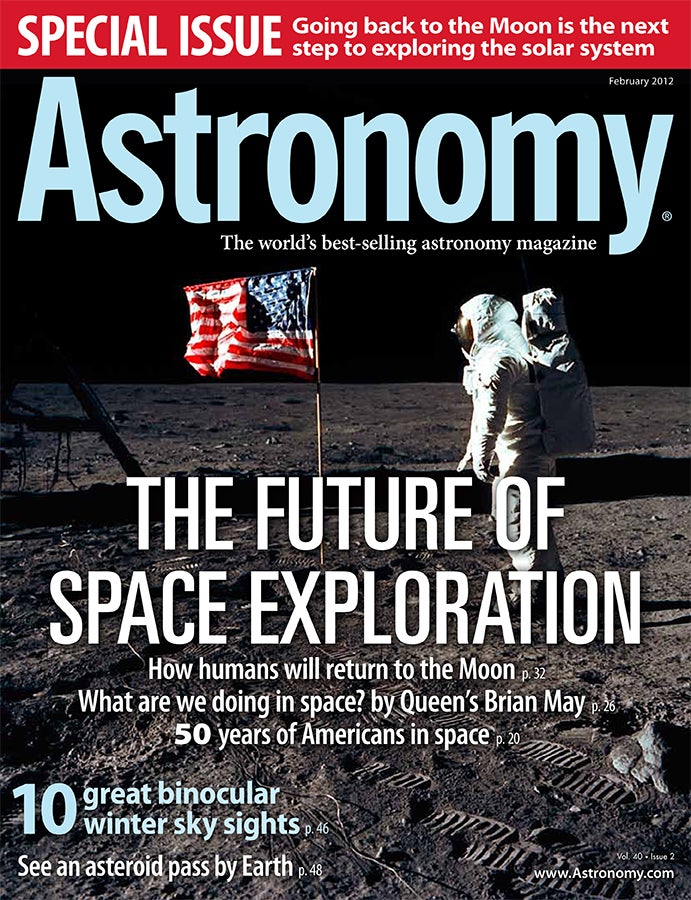 February 2012
The world's best-selling astronomy magazine offers you the most exciting, visually stunning, and timely coverage of the heavens above. Each monthly issue includes expert science reporting, vivid color photography, complete sky coverage, spot-on observing tips, informative telescope reviews, and much more! All this in an easy-to-understand, user-friendly style that's perfect for astronomers at any level.
Features
50 years of Americans in space
Since John Glenn's orbital flight, we've visited the Moon, built space stations, and learned about our place in the universe.
Witness for yourself some of the more memorable moments of the United States' space program.
What are we doing in space?
The success of space travel in the future will depend on humans reining in their aggressive nature and pursuing science instead.
Count down the Astronomy editor's favorite songs from Astronomy Editorial Advisory Board member Brian May's legendary rock group, Queen.
Will we go back to the Moon?
The end of NASA's Space Shuttle Program created doubt about future manned lunar missions. Now, private industries and international competition might be our best hope.
10 great winter binocular sights
All you need besides a clear, dark sky to see some fantastic seasonal sky treats are your binoculars.
You don't need a telescope to observe these cold weather wonders.
Spot a near-Earth asteroid
This winter offers the best opportunity in 37 years to glimpse the asteroid 433 Eros.
View the stars under Earth's darkest sky
An observing site in Chile's Atacama Desert offers telescope rentals for spectacular views of southern sky wonders.
Haunting Prague with Kepler and Tycho
Editor David J. Eicher traveled with Astronomy readers to see astronomical history in Germany, Austria, and the Czech Republic.
An amazing trip brought a group of 15 back to the era of the astronomy greats Tycho Brahe and Johannes Kepler.
Astronomy tests two tracking mounts
Astroimager Tony Hallas looks at two highly portable accessories that will let you shoot the sky without straining your back.
In Every Issue
This Month in Astronomy
Web Talk
New Products
Reader Gallery
Letters
Astro News
Deep-sky showcase
The Cosmic Grid