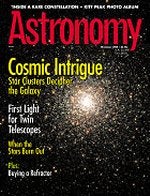 October 2000
The world's best-selling astronomy magazine offers you the most exciting, visually stunning, and timely coverage of the heavens above. Each monthly issue includes expert science reporting, vivid color photography, complete sky coverage, spot-on observing tips, informative telescope reviews, and much more! All this in an easy-to-understand, user-friendly style that's perfect for astronomers at any level.
Features
High-Tech Twin Towers
The brand-new Gemini observatory telescopes prepare to raise the bar on infrared astronomy.
Cosmic Intrigue
Globular star clusters hold ancient secrets about the earliest days of the galaxy.
Embracing the End
The vast future holds remnants of dead stars in collision, decay of particles, and eternal nothingness.
Catch a Gravity Wave
The LIGO observatory aims to put Einstein to the test.
Kids' Corner: Reflections on Refractors
A small refractor can be the gateway to a lifetime of observing.
Observing Like a Pro
Kitt Peak's advanced observing program lets you step into the driver's seat with some pretty big scopes.
Celestial Portraits: Telescopium, Indus, and Pavo
Deep southern constellations hide a wealth of galaxies and a few clusters too.