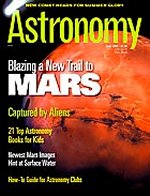 July 2000
The world's best-selling astronomy magazine offers you the most exciting, visually stunning, and timely coverage of the heavens above. Each monthly issue includes expert science reporting, vivid color photography, complete sky coverage, spot-on observing tips, informative telescope reviews, and much more! All this in an easy-to-understand, user-friendly style that's perfect for astronomers at any level.
Features
Red Planet Renaissance
Active volcanoes and underground rivers of liquid water herald a revolutionary view of Earth's enigmatic neighbor.
Captured by Aliens
Members of the Mars Society plan on – and dream of – making humans the alien species on the Red Planet.
Missing the Mark
A rash of failures has NASA rethinking its faster-better-cheaper philosophy for getting to Mars.
Just 6 Numbers
A few simple numbers determine how our universe expands, whether stars and planets are able to form, and even if life can evolve.
Summer's Brightest Visitor
Comet LINEAR promises to be the hit of the summer observing season.
Astronomy by the Book
Here's our guide to the 21 best books for making your kids' summer vacation fun and educational.
Celestial Portraits: Scorpius
Awash with dozens of bright star clusters and a smattering of nebulae, the scorpion stands out prominently along the summr Milky Way.
Reenergize Your Astro Club
If your astronomy club seems mired in politics and parliamentary procedures, try these ten tips for pulling it out of the doldrums.