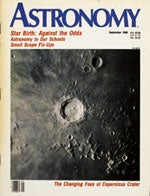 September 1988
The world's best-selling astronomy magazine offers you the most exciting, visually stunning, and timely coverage of the heavens above. Each monthly issue includes expert science reporting, vivid color photography, complete sky coverage, spot-on observing tips, informative telescope reviews, and much more! All this in an easy-to-understand, user-friendly style that's perfect for astronomers at any level.
Features
The Difficult Births of Sunlike Stars
When a gas cloud collapses under just the right conditions, a star like the Sun is born.
Astronomy in Our Schools
The solution to America's crises in science education may begin with getting astronomy back into the classroom.
Shielding the Night Sky
The right light fixtures can help clean up the light pollution that threatens dark skies.
Pluto Emerges from the Shadows
Astronomers are observing and analyzing mutual eclipses of Pluto and Charon to better understand the ninth planet.