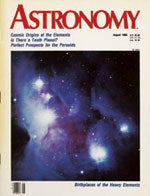 August 1988
The world's best-selling astronomy magazine offers you the most exciting, visually stunning, and timely coverage of the heavens above. Each monthly issue includes expert science reporting, vivid color photography, complete sky coverage, spot-on observing tips, informative telescope reviews, and much more! All this in an easy-to-understand, user-friendly style that's perfect for astronomers at any level.
Features
Cosmic Origins of the Elements
The creation of the chemical elements required the tremendous heat that was produced first in the Big Bang and later at the cores of stars.
The 1988 Eclipse from Space
A weather satellite captured the Moon's shadow as it fell over the Pacific eclipse track this past March.
The Pull of Planet X
There's as much evidence for the existence of a tenth planet as there is against it.
Thinking Telescopes
Automated 8- to 30-inch telescopes are revolutionizing the way stellar research is conducted.