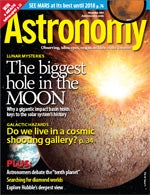 November 2005
The world's best-selling astronomy magazine offers you the most exciting, visually stunning, and timely coverage of the heavens above. Each monthly issue includes expert science reporting, vivid color photography, complete sky coverage, spot-on observing tips, informative telescope reviews, and much more! All this in an easy-to-understand, user-friendly style that's perfect for astronomers at any level.
Features
Eerie connections between energetic blasts and extinctions may explain more than our own history.
Some planets may be made of diamonds — and could survive anything the universe throws at them.
Get an insider's look at the Hubble Ultra Deep Field.
A gigantic impact basin holds the keys to the solar system's past and may be a base for human exploration.
The tenth planet
Move over Pluto, even larger ice worlds exist in the outer solar system.
Sharpen your observing eye by capturing what you see on paper.
Set your sights on Mars
The Red Planet makes its best appearance until 2018. Now is the time to see it!
Shoot the Moon
Taking high-resolution lunar photos demands patience and ruthless determination.
Bringing the stars down to Earth
Coast to coast, club-run observatories serve amateur astronomers and their communities.
A telescope mount for the 21st century
Vixen's Sphinx mount delivers precision tracking and a next-generation controller.
Departments
Bob Berman's strange universe
Glenn Chaple's observing basics
Phil Harrington's binocular universe