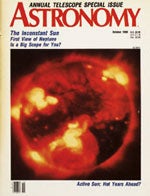 October 1988
The world's best-selling astronomy magazine offers you the most exciting, visually stunning, and timely coverage of the heavens above. Each monthly issue includes expert science reporting, vivid color photography, complete sky coverage, spot-on observing tips, informative telescope reviews, and much more! All this in an easy-to-understand, user-friendly style that's perfect for astronomers at any level.
Features
The Rise and Fall of the Sun's Activity
The Sun is a variable star, and its changes in brightness may have a profound effect on Earth's climate.
Will Solar Max Be Saved?
Unless it's boosted to a higher orbit, the Solar Maximum Mission will crash in 1990.
The Space Telescope Comes to Life
Less than a year before the telescope's launch, final tests are under way on the complex communications systems.
Voyager's First Glimpse of Neptune
Voyager 2 has already sent back its first "far-out" shot of Neptune.
Is Stellar Astronomy a Second-Class Science?
Stellar astronomers are pitted against extragalactic astronomers in a struggle for observing time and funding.