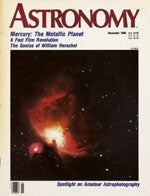 November 1988
The world's best-selling astronomy magazine offers you the most exciting, visually stunning, and timely coverage of the heavens above. Each monthly issue includes expert science reporting, vivid color photography, complete sky coverage, spot-on observing tips, informative telescope reviews, and much more! All this in an easy-to-understand, user-friendly style that's perfect for astronomers at any level.
Features
Mercury's Heart of Iron
Mercury's huge iron core and violent origin have generated new interest in a planet once thought dull.
William Herschel: Pioneer of the Stars
With the biggest scopes in the eighteenth century, amateur astronomer William Herschel opened up the stellar universe.
A New 'Yardstick' for the Universe
Understanding a cosmic illusion could lead to a new understanding of the fate of the universe.