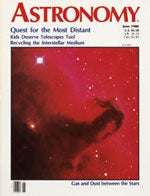 June 1988
The world's best-selling astronomy magazine offers you the most exciting, visually stunning, and timely coverage of the heavens above. Each monthly issue includes expert science reporting, vivid color photography, complete sky coverage, spot-on observing tips, informative telescope reviews, and much more! All this in an easy-to-understand, user-friendly style that's perfect for astronomers at any level.
Features
The Chaotic Material between the Stars
Quest for the Most Distant Objects in the Universe
Forum
– The First Astronomy Novel
– Astrocamping at the 'City of Rocks'
– Reshaping Public Attitudes toward the Space
Program
Gazer's Gazette
Observe the Naked-Eye Sky Glows
Eye on the Sky
Saturn Overtakes Uranus – Again!
Reader Reports
Searching for Supernovae
Photography in Astronomy
Conquering the Cepheus Nebula
Equipment Atlas
A Telescope for Kids
AstroMart
ASTRONOMY Advertiser Index
The Backyard Astronomer
A Golden Opportunity for Globular Clusters
Gazer's Gazette
Seeing Double