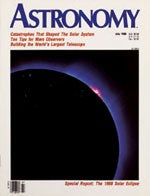 July 1988
The world's best-selling astronomy magazine offers you the most exciting, visually stunning, and timely coverage of the heavens above. Each monthly issue includes expert science reporting, vivid color photography, complete sky coverage, spot-on observing tips, informative telescope reviews, and much more! All this in an easy-to-understand, user-friendly style that's perfect for astronomers at any level.
Features
The Chronology of Planetary Bombardments
From an ancient era of massive bombardments to the present day, encounters with solar system debris have left their marks on the planets.
Anatomy of a Cosmic Jet
Astrophysicists are scrutinizing the high-energy jet spewed from the active galaxy M87 to determine what powers this fascinating object.
The Soviets Advance into the Solar System
The Red Planet is just the first stop in the Soviet Union's ambitious plan of planetary exploration in the 1990s.
The Telescope That Defies Gravity
The designers of the world's largest telescope, to open in 1990, have overcome gravity's limits on the size of professional telescopes.