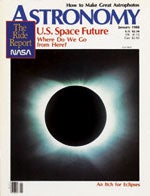 January 1988
The world's best-selling astronomy magazine offers you the most exciting, visually stunning, and timely coverage of the heavens above. Each monthly issue includes expert science reporting, vivid color photography, complete sky coverage, spot-on observing tips, informative telescope reviews, and much more! All this in an easy-to-understand, user-friendly style that's perfect for astronomers at any level.
Features
Special Report
Charting America's Future in Space
Leadership and America's Future in Space
Reader Poll: Deciding the Future
Stellar Frontiers
Is the Milky Way an Interacting Galaxy?
Forum
NASA's New Office of Exploration
Equipment Atlas
Should You Keep an Astronomical Notebook?
Eye on the Sky
Mercury Low in the Evening Sky
Gazer's Gazette
Confessions of an Eclipse Addict
Photography in Astronomy
High-Resolution Lunar and Planetary Photography
Equipment Atlas
Tools for the Astrophotographer
AstroMart
ASTRONOMY Advertiser Index
The Backyard Astronomer
Orion's Great Nebula