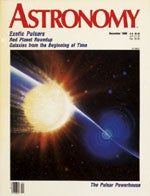 December 1988
The world's best-selling astronomy magazine offers you the most exciting, visually stunning, and timely coverage of the heavens above. Each monthly issue includes expert science reporting, vivid color photography, complete sky coverage, spot-on observing tips, informative telescope reviews, and much more! All this in an easy-to-understand, user-friendly style that's perfect for astronomers at any level.
Features
On the Trail of Exotic Pulsars
The unidentified radio pulses that baffled astronomers turned out to be the oddest objects in the universe.
The Triumphant Grand Tour of Voyager 2
Voyager overcame funding squeezes and technical difficulties to become the most productive deep-space mission the United States has ever flown.
Otherworldly Visions
Space artists from around the world gathered in Iceland to explore one another's perspectives on the solar system.
Galaxies at the Confusion Limit
At extremely vast distances there are so many galaxies that their images nearly overlap.